Millions of businesses across the world rely on Google Apps to manage their day-to-day work. Most of these are small businesses with less than 50 employees. In fact majority of small businesses across the world prefer Google Drive Apps for managing their work.
Why is that?
Table of content
1. Why small businesses love Google Apps
1.1 Easy collaboration
1.2 Flexibility
1.3 Inexpensive
1.4 Secure and very accessible
1.5 Bustling google ecosystem
2. Connecting sales data to other operations
3. Connecting CRM to Google Apps
3.1 Option1 – Using a CRM built on top of Google Drive
3.2 Option2 – Connecting selected CRM data to Google sheets
Why small businesses love Google Apps
Easy collaboration
All of Google's work management tools are available online by default. So any work that you do with Google Apps will get immediately backed up and stored in Google Cloud.
From there, it is easy to share with your colleagues, customers and vendors. They can access it from anywhere with an internet connection.
Basically, all Google Apps are made for easy online collaboration by default. For example, it is much more easy to collaborate in a shared Google sheet compared to an Excel file stored on your laptop.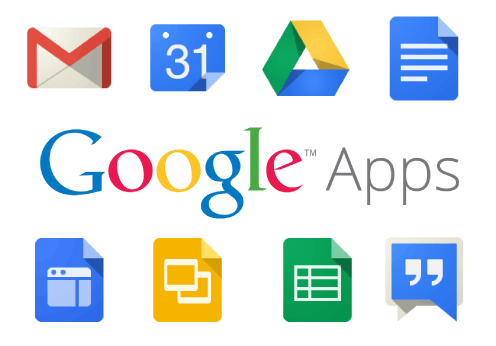 Flexibility
But to understand why Google Apps are so popular with small businesses, we need to look at an important factor for SMEs – flexibility.
Small businesses are not highly structured and organized like bigger enterprises. They work environment and culture can be quite chaotic. Accordingly they need flexible tools that can adapt to their work culture.
A big reason why small businesses don't go for complex ERP software is it lacks the flexibility needed by a small team.
The ease of use and flexibility of Google Apps make them a natural choice for small businesses.
Inexpensive
The cost of a work management platform is another important factor for small businesses. They need affordable solutions for their teams.
Paid version of Google Apps is quite inexpensive. But going further, many self employed people or freelancers also use the completely free but very powerful personal account on Google Drive – at no cost at all!
The low cost of using and maintaining Google apps makes them viable for small business environments.
Secure and very accessible
Your Google account may be one of the most secure online services that you have used. Even if you share your password with a friend in another city Google will not easily allow that person to log in.
Furthermore, Google's content delivery network (CDN) makes it one of the most easily accessible online services – even in low network connectivity areas.
Google Apps were designed to be used online from day one. Their security and accessibility is of a very high standard for that reason.
Bustling google ecosystem
Google has attracted many developers to their ecosystem because of their two popular platforms – Android and Chrome (also Google Ads to an extent).
That means you will find many other solutions and services integrated with some Google Apps or other.
That makes the Google ecosystem very rich with presence of most online solutions and services.
Connecting sales data to other operations
Running different business operations in data silos kills the efficiency of a business. By connecting one or more processes to each other, you can create possibility for automating them completely or partially.
Such automations will incrementally add to the overall ease and efficiency of your business operations.
By nature, small businesses are quite chaotic. Creating connectivity and automations will effectively streamline your operations, reducing chaos and increasing ease and efficiency of operations.
Connecting your sales process with other important operations can help a long way. For example –
Connecting sales to inventory management system – for easy forecast of new stock requirements.
Sales connected to marketing platform to measure ROI of different marketing channels
Connecting CRM to other work management tools will offer many benefits for small businesses.
Connecting CRM to Google Apps
For a small business relying on Google Apps, connecting CRM to other operations will require integration with Google Apps.
There are few options that can be explored –
Option1 – Using a CRM built on top of Google Drive
Using a CRM already built on top of Google Drive Apps, offers seamless connectivity with important tools like – Google Sheets, Forms, Docs, Folders and Gmail account.
Fuzen CRM is built by connecting a sales tracking dashboard to Google Drive Apps. All the required integrations with Google Apps are pre-built.
Fuzen CRM connected to Google Apps is flexible and inexpensive, as required for small business operations.
Option2 – Connecting selected CRM data to Google sheets
Another option is to use tools like Zapier or Integromat to connect your CRM platform to Google Sheets. Many CRM solutions will offer Google Sheets integration via zapier like tools.
But they may not connect with other Google Apps – like Forms or Docs for example.
Moreover such integrations are not seamless, they are data transfer bridges for connecting a very specific data between sales and other processes.
For a more robust and comprehensive integration it may be a good option to consider a CRM seamlessly connected to Google Apps.