Let's face it. Despite so many CRM and sales tracking software being available online, many businesses still prefer to track their sales pipeline in Excel sheets. That's because Excel sheets and Google Spreadsheets are so flexible and easy to use.
If you also love spreadsheets to manage your work (just like we do), we have something for you. We have put together a list of sales tracking templates in Excel and Google spreadsheets.
Table Of Contents
1. Why should you even track sales in Excel?
2. Sales tracking templates in Excel and Google Sheets
2.1 Sales pipeline/lead tracking Excel template
2.2 Sales funnel tracking
2.3 Sales activity tracking
2.4 Sales performance report
Why should you even track sales in Excel?
Spreadsheets remain so popular for tracking leads, sales, cash flow, etc. because of their high flexibility. There are many inexpensive CRM software platforms available online today. But most of them come with a predefined structure or sales process that may or may not suit your particular business.
Moreover, you have the flexibility to modify Excel or Google Sheets for tracking sales data. Add new columns, and blank sheets, and customize functions to automate sales processes.
For example, the sales process for solar projects requires a lot of data and documentation to be gathered from customers. All this information can be easily tracked in Excel by simply adding multiple columns to the lead tracking sheet.
Furthermore, everyone in your sales team already knows how to use an Excel sheet for sales tracking. By contrast, most other CRM platforms come with a learning curve, where you need to spend some mental energy to learn the flow.
Google and Excel Spreadsheet templates for Sales tracking
Let's look at different Excel templates useful for day-to-day sales tracking.
Sales pipeline/lead tracking Excel template
First and foremost, you will want to track all the leads in your sales pipeline, along with their contact details, requirements, commercials offered, and their status in your sales pipeline. Use this template to that end.
Tracking basic lead details – contact, status, etc.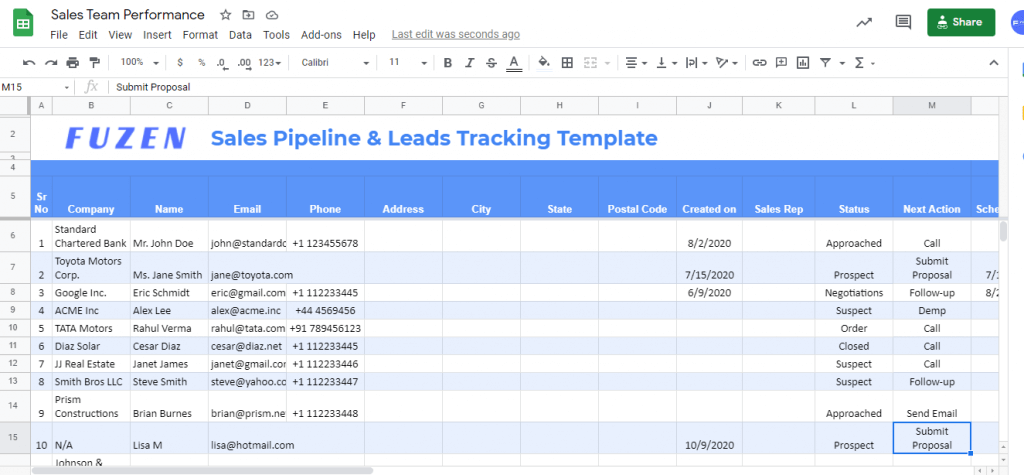 Tracking customer requirements in commercial details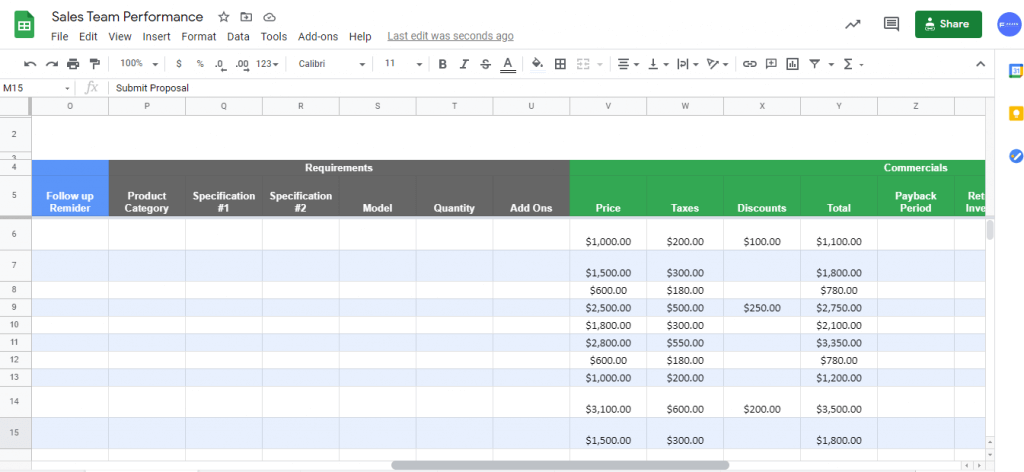 Sales checklist template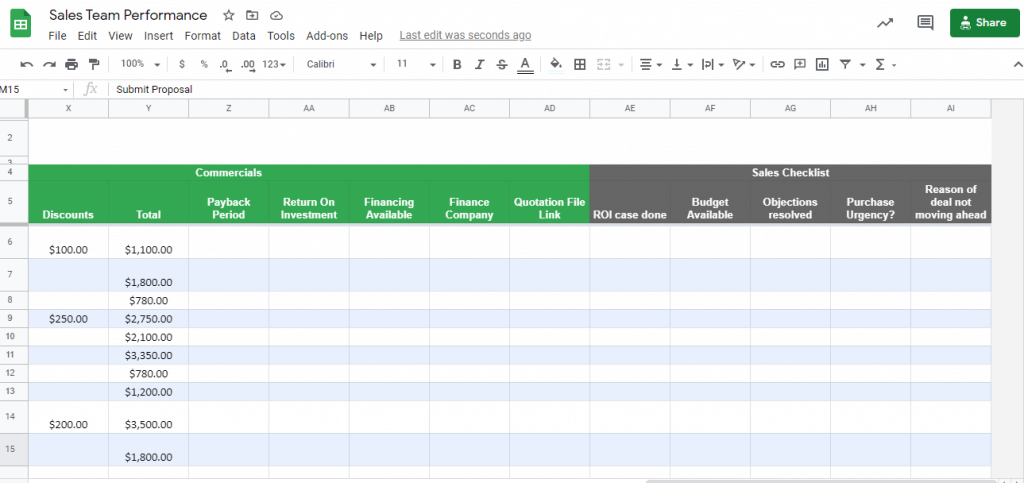 Sales funnel tracking
As a business owner or sales team manager, you must also keep an eye on the overall sales targets. A sales funnel will help you visualize the value of your current pipeline. Additionally, regularly monitor the numbers in your sales funnel to ensure you have sufficient leads in the pipeline to meet your sales quota
A sales funnel report will usually show you either the number of leads or the cumulative value of all leads at each stage in your sales process.
In this template for sales funnel tracking, we have reported the cumulative value of all the leads at any of these stages in a SPANCO sales process – Suspect, Prospect, Approached, Negotiations, Closed, and Order.
Sales activity tracking
Tracking all important sales activities – new leads, calls, meetings, emails, proposals, orders, etc. – will help in analyzing your sales process. So that you can find out the bottlenecks and remove them to make your sales pipeline more efficient. Such optimization will help you grow sales without hiring any new sales reps.
This Excel template is a simple framework for tracking sales activities.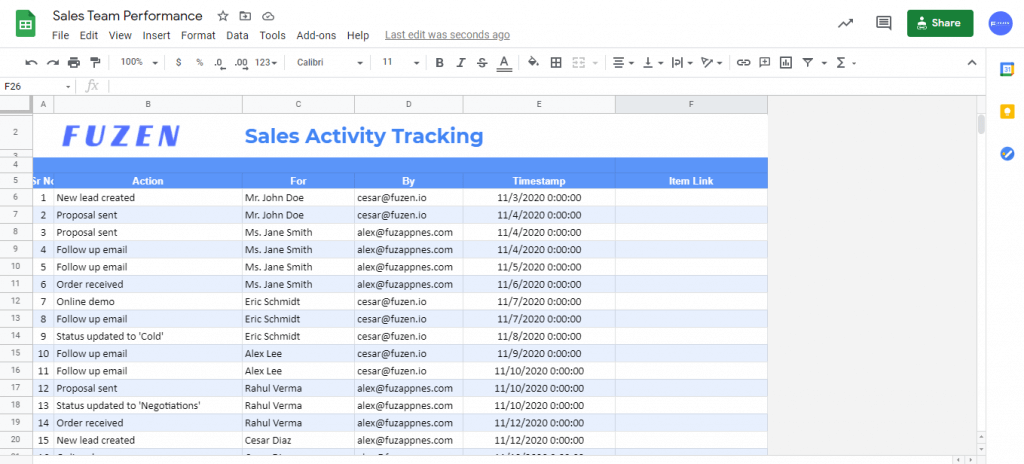 However, the activities must be linked to the spreadsheet for effective tracking. If you ask your sales people to record each of their actions in an Excel sheet, they will see it as double the effort and will be reluctant to do it.
To get around this problem, Fuzen connects your sales tracking spreadsheet with other important tools like – shared folders, email accounts, CRM, lead alerts, etc. So that most of the important sales activities are automatically tracked in a spreadsheet. From there, you can use the raw data for analyzing and optimizing your sales process.
Recommended: Construction Project Management Checklist
Sales performance report
One example of such an analytical report is this Excel template for tracking the performance of your sales team. This template will report the summary of how different people in your sales team have performed. Each of your sales reps will report important performance indicators, such as the number of leads contacted, proposals sent, orders received, and revenue generated.
It will help you to easily identify and reward your best-performing sales people, motivating them further to grow your business.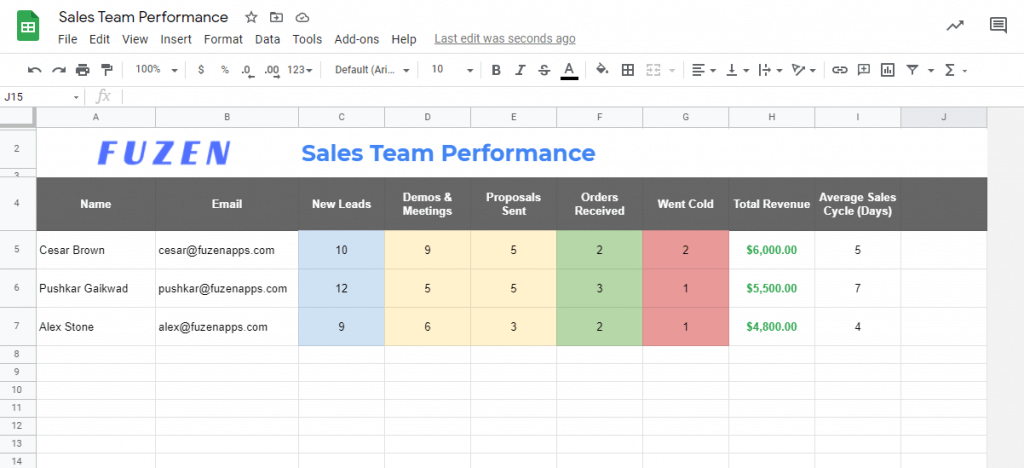 But this kind of report is possible only if you have connected your spreadsheet to other important tools for tracking sales activities. If you're not sure how to integrate your sales tracking spreadsheet with other tools, we can help you.
Our CRM is built on top of Google Drive, connecting Google Sheets with Google Drive Folders, Forms, Docs, Gmail, etc. It can also connect with a wide range of other online tools to track all of your important sales activities in a Google Sheet. It can be easily customized to match with any industry-specific sales process – for example, our solar CRM is highly customized for solar EPC industry.
Once you track your activities, Fuzen grants access to various dynamic report templates that assist in analyzing and optimizing your sales process.